For Range to Reef's environment director, Dr Andrew Hill, the magic of Christmas Island lies in its fascinating tropical environments and unique flora and fauna, such as the Abbott's booby, red crabs, robber crabs, the Christmas Island hawk-owl and towering rainforest. After nine years of travelling to the Island, Andrew is still learning more about it.
"It's quite a unique environmental system in terms of how the environment has developed and evolved as an island lying far from the Indonesian and Australian mainlands," he says.
"While there are many species found across the region, there a range of species that are only found on the Island such as the Christmas Island goshawk.
"These endemic species provide a collection of species quite unique to Christmas Island."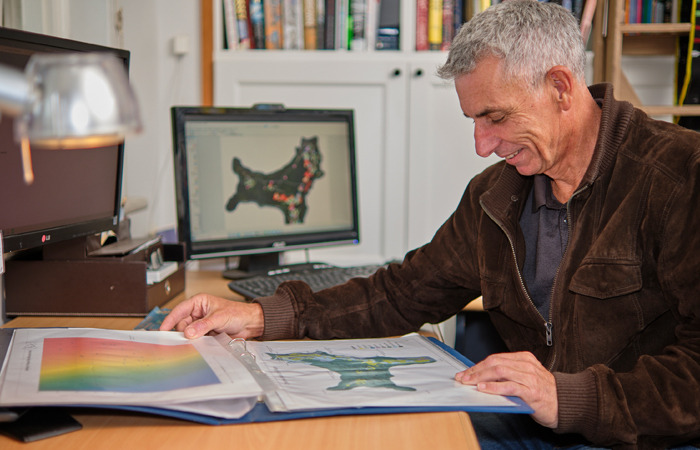 Andrew was first employed on the Island by mining company Christmas Island Phosphate (CIP) in 2011 to review its environmental management plan. He's since undertaken a range of activities, including environmental surveys, research projects, approvals processes and assisting CIP to meet its environmental regulatory requirements.
He has assisted with approvals for clearing, however, he points out that clearing only occurs in areas which have been previously disturbed.
"The mine does not go into areas which are pristine, they are only accessing areas that have been cleared or mined before," he explains.
"There is a permit approval process that reviews the values that exist on those sites and we assist in developing management strategies to how the operation can proceed while minimising impacts."
However, Andrew says this does present some interesting issues given the widespread nature of the Island's special fauna and flora.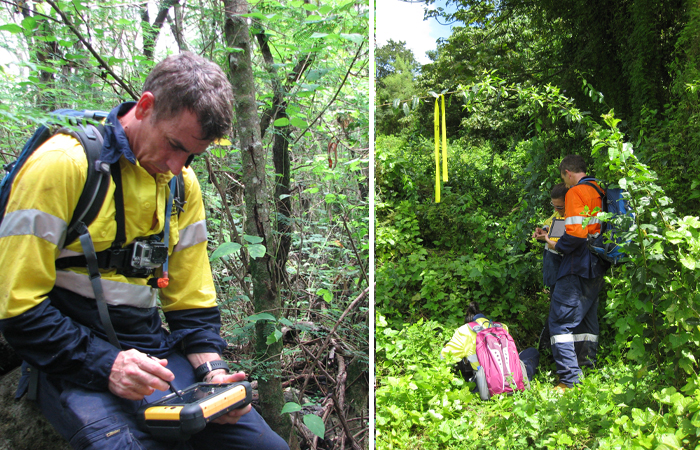 "Part of the challenge of working on Christmas Island, is that wherever you operate, you have the issue of how to mitigate impacts to threatened species and protect important species like red crabs. Operating and minimising impacts on those species requires innovative approaches," he says.
"We do environmental surveys and then work with the regulators and Parks Australia to amend boundaries of clearing to avoid important areas such as Abbott's booby nests or important crab migration pathways.
"Other strategies to minimise impacts may also be developed such as timing of clearing, weed management, and implementing buffers."
Andrew says a unique challenge for operating a mine on Christmas Island is working around the annual migration of the Island's estimated 45 million red crabs. The species, synonymous with the Island, are what is called a 'keystone' species because it drives the ecology of the Island environment and its tropical rainforests.
"Red crabs are considered a keystone species given their critically role in recycling nutrients by feeding on leaves and vegetation on the forest floor and making these important nutrients available to the forest plants," he says.
The company has a strong commitment to protecting the red crab population.
"Christmas Island Phosphate works very closely with the Parks Australia during the migration period and it amends its operations, closes off roads, makes sure the trucks aren't operating or heavy equipment operating in areas where they're going to impact on the crabs," Andrew says.
"The staff of CIP are very much aware of it because they live on the Island and have grown up with the red crab migration and it's something that they take a great deal of ownership of to ensure that they're not impacted."
Red crabs aren't the only ones which get special treatment. The giant spider-like robber crabs are also fiercely protected by the locals.
"People get angry if visitors run over them or aren't careful and there's a great communication program on the Island informing people that come to the Island to drive around them, not drive over them," Andrew says.
"That's another example where I guess the local people have grown up with those species and have very strong ownership of them and make every effort to protect them."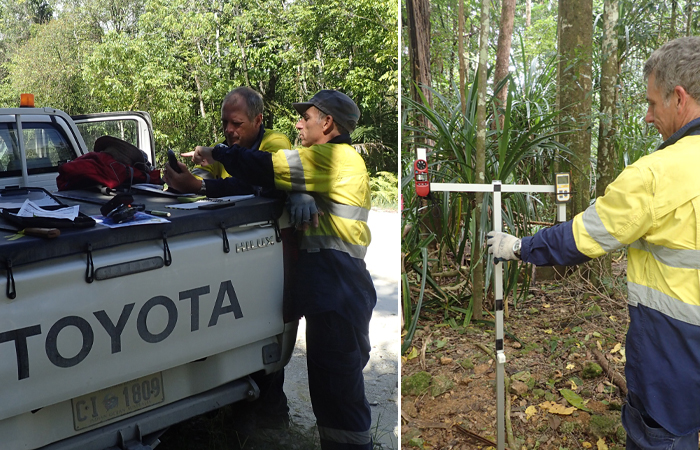 Andrew says non-crustacean fauna on the Island are also looked after by the Island's residents.
"More recently, we've been doing a project on behalf of the company to look at the use of nest boxes to improve nesting habitat for hawk-owls in areas which have no large mature nest trees," he says.
"We worked with the school and the schoolkids who built the nest boxes as part of their technology curriculum.
"We installed thirty boxes in 2017 and have commenced a monitoring program in liaison with the school to see how they're being used."
It's a great learning opportunity for the school students and has shown some promising results.
But while there are many species on the Island that need protection, there are several species the Islanders, and Andrew, are not so fond of, including; yellow crazy ants, wolf snakes, giant centipedes, feral cats and rats.
"The big story for Christmas Island, in terms of human impacts to the natural environment, is the devastating impacts of invasive species since settlement being held responsible for the extinction of numerous endemic species," Andrew says.
"Whilst most of the Island is safely protected in national parks, Christmas Island has been impacted significantly by invasive species and it's remains the biggest concern for conserving its unique fauna."
Andrew says CIP has led the charge in funding environmental projects that have positively contributed to the protection of the Island in the future.
"They have been a very strong advocate and supporter of the feral cat program from its inception," he says.
"CIP provided a significant in-kind support and monetary support for the cat program. I think where the company sees there's some good science around the benefits of certain actions, they're very willing to contribute to support those actions.
"The company has shown a strong commitment to progress to a sustainable long-term future for the Island and its community.
"Whilst mining has sustained the economy and the community for over 120 years, it will eventually come to an end on the Island".
In the short term however the strategic assessment is providing an opportunity for some additional resources to support 10 to 15 years of mining as the Island transitions to other industries like eco-tourism.