Christmas Island grocery store owner Cindy Eng gets no pleasure from charging her customers almost $12 for an iceberg lettuce.
"Sometimes it is even as high as $15," she says.
Unfortunately, that's the way it goes when you live on a remote island with high freight costs.
Unlike most small business owners, Cindy went into the grocery trade to try to drive down food prices for her community.
That was back in 1994, a boom time for the Island.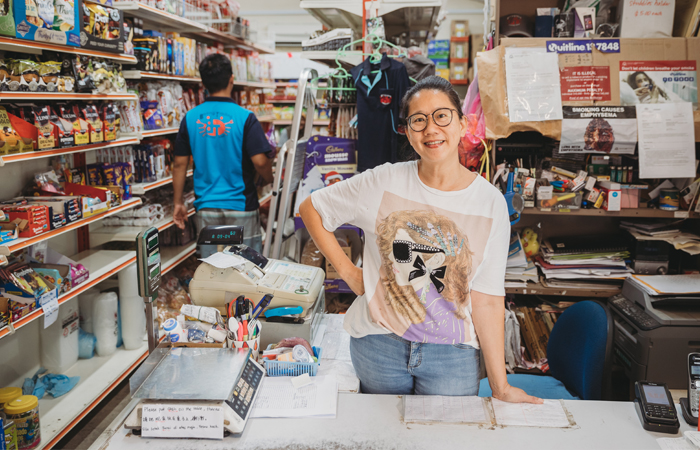 "There were so many grocery shops, but I thought the prices are too high, and most of the shop owners worked together to keep their prices high," Cindy says.
"I came in to try and drive the price down, which I did."
Since 1994, however, the cost of freight has risen to an all-time high, due to diminishing government subsidies, making it almost impossible for her to pass on savings to her customers.
Cindy's stock is imported from Malaysia and Western Australia with everything from food to electrical goods and furniture.
"Right now, it mostly comes in from sea freight, we used to have air freight from Indonesia, but none at the moment, we rely on the Perth flight," she says.
In the past, one freight service had a monopoly over imports to the Island but with the recent purchase of the Red Titan vessel by Phosphate Resources Limited, a second shipping service is set to do just what Cindy did and bring in more competition to drive down prices.
"We haven't seen a drop yet, but the Red Titan is a very new service so we, along with many of the other small businesses on the Island, support this service and hope it will help bring down the costs soon," Cindy says.
If anyone knows what the local community of Christmas Island wants, it's Cindy Eng.
Along with owning the grocery store, Cindy has also run a local café, and restaurant during her time on the Island, providing her with ample opportunity to catch up with the locals.
"It's a very special place, with a strong community. Anywhere you go on the Island you always meet someone you know and have a chit-chat," Cindy says.
The 52-year-old mother of three was born in Malaysia and flew over to the Island in 1987. Her husband, who use to work in government, now helps run the business, with the pair raising two boys and a girl, who are all now adults, on what she describes as the perfect "family Island".
"There is nowhere else that can compare when it comes to bringing up kids. It's so peaceful and safe. The kids have experienced 100 per cent freedom. They walk to and from school and we never worried about them," she says.
"It's so precious to me, being in such a small community everyone knows each other and will keep an eye on the kids."
There is no denying Christmas Island is unique - its environment, its location and most of all, its culture.
There is nowhere else in Australia that mimics its inimitable cultural position, where Malay, Chinese, Australian and European people live together and celebrate each other's cultures in harmony.
"I came from Malaysia, but I am quite multicultural, so I do celebrate with all of them," Cindy says.
"I celebrate Christmas and Chinese New Year, and we also have a lot of temples at Christmas Island for Buddhism, so there are a lot of celebrations."
Cindy says her local business along with many others, including the mine, help keep the Island's cultural diversity alive.
"The mine did put a lot of funds in for all these temples and for all the cultural events we celebrate," Cindy says.
"That is just what our community is about, most of the shops are often the sponsors for all the celebrations. I donate to the school, the temple, and the church, and have contributed to the local Muslim festival because as I say, what is taken from society is used in society.
Cyndi says she once organised two fundraisers with the help of another business for the Nepal earthquake disaster, which raised $50,000 and the Christmas Island Charity, which raised $30,000.
"That was when we had a population of around 1500, so it clearly shows how generous our community is," Cindy says.
The business owner has played a big role in investing in her community's future. She says she set up both the café and restaurant to hand over to her nieces and nephew to give them a reason to come back and stay on the Island.
"I always encourage and help the young generation to come back to the Island because we need young blood to combat the ageing population issue," Cindy says.
Island life hasn't always been so easy for Cindy and her family, who have lived through the ebbs and flows of the Island's ever-changing economy.
Cindy not surprisingly chose to open her grocery store in the early 90s, at a time when the Island was booming.
The phosphate mine had reopened thanks to a huge community and union investment, and more tourists than ever before began to fly in to experience the new resort and casino.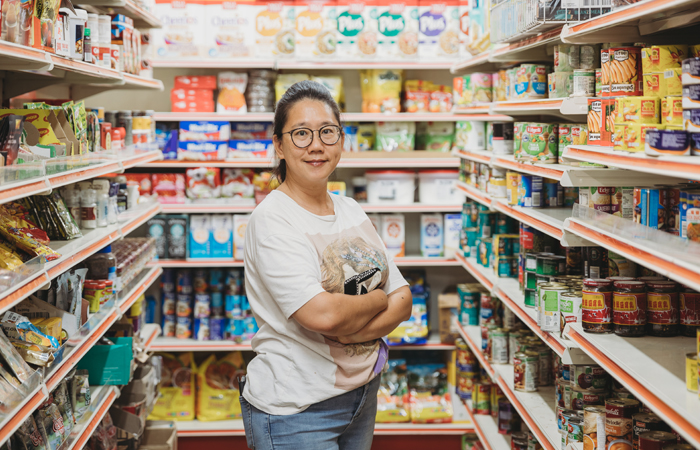 "It was a good time for the Island, and we all want to see that boom time again, it means more frequent flights and more affordable local food I can provide for the community," she says.
In 1998, as a result of the Asian Financial Crisis, the Island's resort and casino suspended operations which led to a big drop in population.
In 2005, the detention centre was built and created jobs, but it too was shut down only to be mothballed.
Cindy concedes the Island's only stable economy has been the phosphate mine and as she says, the only reason why many people can stay on the Island.
"The mine can't stay forever, but if the mine shut down now, we'd be affected by the loss of jobs, for the people who work there who came from overseas, they would leave," she says.
Cindy believes it's now time for the government and Island authorities to start looking at the bigger picture and make a plan for Christmas Island's future, which she says is tourism.
"I think most of the Islanders, are aiming for the tourism, they don't want the Island to change to only a detention centre or army base, it's not the future," Cindy says.
If the mine was to close prior to a plan being in place for tourism, many locals say the Commonwealth Government would need to step in and subsidise the mine's contribution to keep the local community and businesses, such as Cindy's, stable, which would cost millions of dollars a year.
Cindy says more needs to be done to ensure the Island's mining economy can transition into a tourism economy.
"Tourism is one of the most profitable industries in the world, and we have a beautiful Island," she says.
"We want to share our unique Island with others. Why not Christmas Island?"
Cindy is hopeful an economy eventually run by tourism will result in more flights to the Island and is confident her commitment, partnered with the new Red Titan shipping service will help drive down prices for her community.
Maybe then she could cut the cost of her $15 iceberg lettuce.