When Vanessa Goh decided to start a family, there was no question of doing so anywhere other than Christmas Island.
The 32-year-old is the first generation of her family born on the Island after her parents moved there from Malaysia, but it's easy to see why she has such a strong connection to the place.
Vanessa describes growing up on the Island as "pretty cruisy".
"The community is like our extended family," she explains.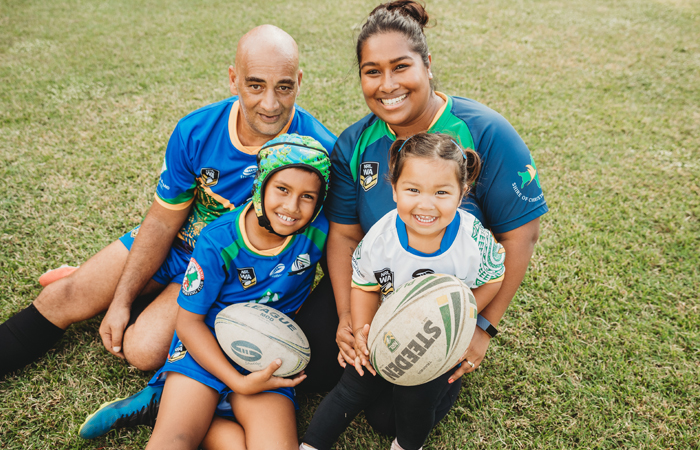 "I felt I was always safe, living carefree and enjoying the simplicity of it all.
"On the mainland, the lifestyle seems so much more busier, people in daily traffic to get to work and returning home. On the news, you hear of many break-in and car accidents. Here on the Island we rarely had to worry about any of that. The houses and cars were always left unlocked."
When it came time to pursue education after graduating high school on the Island, Vanessa had no choice but to move to Perth and the little differences took some getting used to.
To ease the shock of living off the Island for the first time, Vanessa's mother joined her and her brother on the mainland for the first two months.
"She was trying to prepare and drill us into locking the doors and checking the windows," she recalls.
"There were quite a few times where we locked the door, but left the keys inside the house and couldn't get back in."
The need to secure the house was nothing compared to the difference in how people interacted in public on the mainland compared to Christmas Island.
"We walked down the street and we'd be friendly and bubbly and say hi to everybody, but they'd give us weird stares like 'why are you so happy?'," she says.
"It was definitely a culture shock."
Vanessa lived in Perth while studying her Certificate III in Children's Services at TAFE and for a year afterwards, but aspects of the Western Australian capital made her miss the Island of her birth terribly.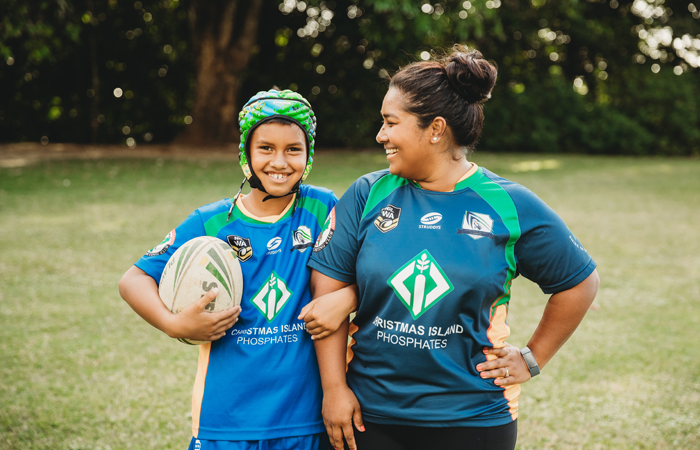 "I did not like the dry heat, I just couldn't stand it," she remembers.
"I missed the Christmas Island beaches – we went to the beaches a couple of times in Perth but didn't swim because it was just too cold."
Despite this, she had intended to work on the mainland, but when she was offered a job there through a friend, Vanessa could not go through with it.
"The thought of moving off-Island, it was just a bit overwhelming," she says.
"I would have missed the comfort, the people here and the connections we have - it's just really close.
"I don't think you'd get that on the mainland, you'd just feel isolated in a big city."
Years later, Vanessa is still happily living on Christmas Island with her partner Tim and has enjoyed the many benefits of raising their children Nixon, 10, and Tahlie, 2, there.
"With work being so flexible and being so close distance-wise, it's been quite easy," she says.
"With school and day care, if there ever was an emergency, you're only a phone call away and then a five-minute drive down the road.
"You're reassured that you can get back to your child as soon as possible."
Vanessa also praises the natural wonders available to explore and the beautiful sunsets year-round.
However, the Christmas Island that Nixon and Tahlie are growing up on has some notable differences to the one of Vanessa's youth.
As a child, Vanessa was part of the Kung Fu & Lion Dance Club, and she has fond memories of those days.
"We had lots of children of all ages, and the adults and older children taught us all the different elements of the lion dance performance," she remembers.
"It was a yearly event that saw children playing their instruments in the back of utes and trucks going house to house.
"It brought so much joy to the community and was an interesting sight for visitors to the community."
However, she says it's not an activity her children have participated in and sadly the practice has noticeably declined in the past two years.
Sport was also a big part of Vanessa's childhood, but although she played soccer, softball, touch rugby and other ball sports, there were a few activities that were unique to Christmas Island.
"When I was growing up they had motorised go-karts, jumping castles, the greasy pole challenge and wheelbarrow and bin racing," she explains.
"The marathon was a fun activity we did annually – it was a whole school participation, where we all got to ride in the big school busses and take turns running the whole marathon.
"What made it fun was emergency services going around spraying us with water pistols and balloons."
Vanessa says stricter safety protocols have seen some of these activities fall by the wayside.
"Safety is very much a big part of why some of these activities and sporting events cannot happen now," she says.
"I do miss how the marathon was run the old days, but I do understand, why the changes were made."
While it may look slightly different, sport is one through-line between Vanessa's generation and that of her children and new sports have taken hold on the Island – rugby league in particular.
Vanessa's partner Tim Briggs was instrumental in bringing the sport to Christmas Island in 2016 alongside Kele Nabukete with the help of NRL WA.
The Christmas Island Robbers club – named for the Island's endemic robber crab – was formed and the adult players occasionally represent the Island against nearby Cocos Island as part of Inter-Island Games.
But the sport has really shined among the youth of the Island, with more than 40 children registered to participate in the 2020 league season.
Vanessa says having organised sport available for the Island's youth is a great way to bring the community together.
"Social gatherings and interactions are what makes our community special," she says.
"The bond that comes from our children and ourselves as adults participating in community and volunteer groups is wonderful, and it helps the community keep active and busy.
"It means everything to have activities and sports to keep the kids busy and entertained because there isn't much else available."
But like many aspects of living on such a small Island, sports are expensive, and without funding support from local and some off-Island businesses, children would not be provided with this opportunity to participate.
In 2018, the Christmas Island Phosphate mine signed a three-year partnership with the rugby club to support starting up the junior league.
In addition to working for the mine as a training officer, Vanessa serves on the rugby committee so the impact of the mine's support is not lost on her.
"They put a lot of money into our junior club," Vanessa says.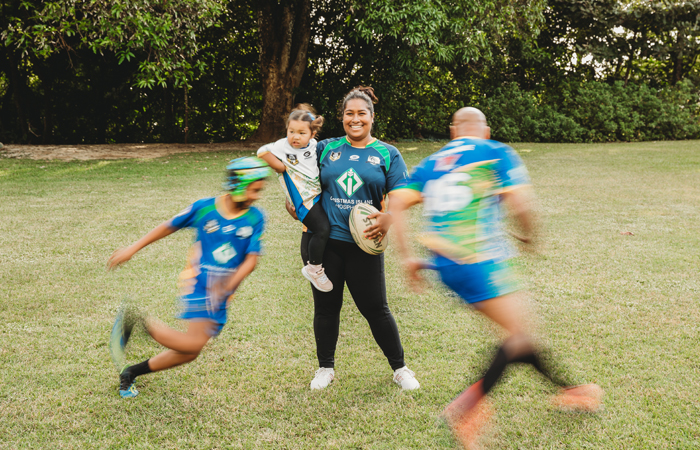 "The mine has provided financial support for us to purchase junior league uniforms, safety gear such as mouthguards and headgear.
"To have the mine sponsor something like that on a regular basis really does make a difference."
However, the funding can only go so far and while the club is able to run a 21-week program with two sessions each week for its juniors – the young Robbers have not yet been able to represent Christmas Island on the mainland.
Vanessa hopes she can see that change.
"Giving our children and the youths of Christmas Island the experience to compete off-Island, is one of my goals," she says.
"I hope that one day the club will be able to find enough money to make it happen."
A lot will need to happen to bring down the price of flights to and from the mainland enough for this to happen, but Vanessa believes it would ultimately be worth it.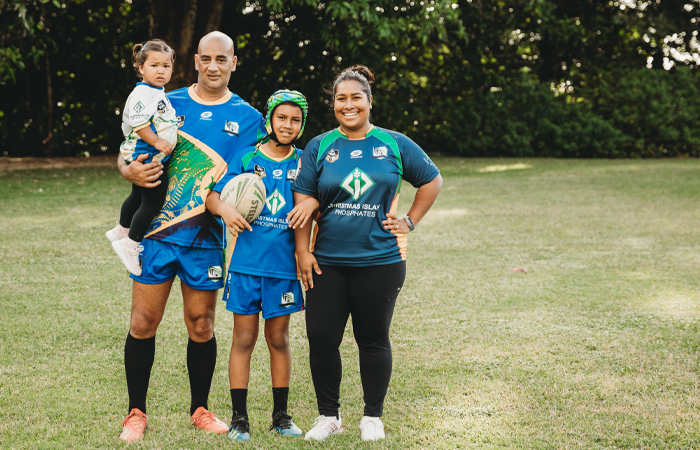 "The sense of accomplishment, knowing that the children have worked so hard and committed to training all year, to someday compete in the NRL WA Harmony 9's competition would mean everything," she says.
"The exposure for our little Island is also something that the community would be very proud of."
Vanessa is no stranger to achieving her goals, having made one dream come true already.
"I had always dreamt of raising my family in a nice big house," she says.
"In 2015 this dream became reality when my partner and I bought our first home together."
With one big win on the board, Vanessa will keep fighting to give her family and the Island's budding rugby players a better experience on the mainland than she had.