Leaving Christmas Island only to eventually return is something of a family tradition for Eric Chong.
It's a cycle that has persisted across generations, beginning with Eric's grandfather Tuang Ah Hew, who was the first member of Eric's family to live on the Island.
Tuang was recruited from Singapore to work for Christmas Island's local phosphate mine as a draughtsman in the early 1930s.
Eric's grandfather brought his young family with him and raised the first generation of the family born on the Island there, including many of Eric's uncles.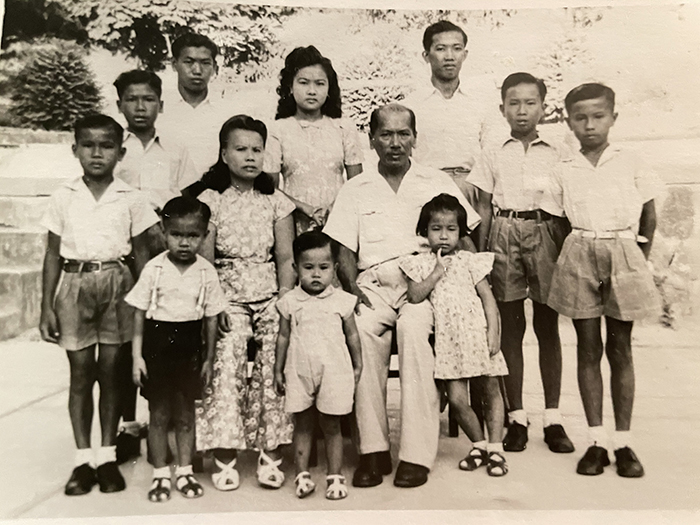 Tuang was working on the Island when Japanese soldiers invaded during World War II in early 1942.
In December 1943, Tuang was forcibly removed from Christmas Island and taken to the Javanese port of Surabaya along with about 800 other Asian workers and remained there for about four years.
Eric says his grandfather always kept the goal of returning to Christmas Island in mind, knowing that the mine would need workers after the war.
"He could have gone anywhere, but he chose to come back," he says.
Tuang used his ability to speak English to secure not only his own return, but also a number of other people who had been displaced from Christmas Island by the war.
"He would go to the port every day, waiting for news," Eric says.
"He was a star."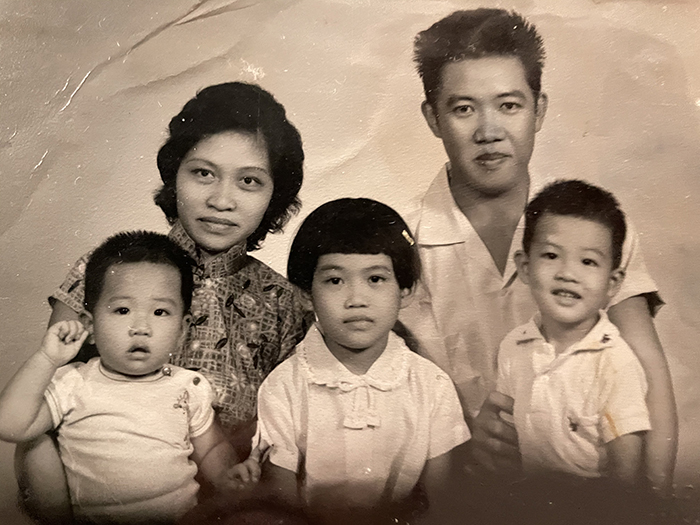 By the time Eric was born, Christmas Island was far removed from the war and had become an idyllic place to grow up, mixing the closeness of a small community and an abundance of natural wonders.
"I had a lot of friends, growing up there were a lot of kids," Eric recalls.
"We were sort of carefree – there was about 10 of us, fishing nearly every day on a cantilever."
However, looming over the latter stages of Eric's early years was the knowledge that the mine would soon close and people would be forced to leave.
Once again, Eric's family left Christmas Island – this time by choice – when his father decided to move to Perth in 1975 before resettlement was forced on them.
Eric recalls being optimistic about the move to the mainland.
"When you're 13 you're not quite sure, but it was exciting because the mainland's a big country," he says.
"When we left here, in '75, there was no TV, so we had never seen TV here and they had all that in Perth – shopping, TV."
Despite this, it wasn't all smooth sailing and he recalls there being a bit of culture shock at first.
"We study English on Christmas Island, but when I went to Perth, I couldn't understand because of the accent and the slang, it's all different," Eric says.
"But when you're 13, you pick it up quite quickly."
Eric remained in Perth to complete his high school education but left in 1980 to pursue an apprenticeship as an electrical fitter with BHP in Port Hedland.
"That's where my uncle was living, so I stayed with him, in my apprenticeship there," he says.
Eric worked for BHP in Port Hedland for 14 years, before taking a redundancy in 1993.
Although he enjoyed the quiet of Port Hedland in comparison to Perth, both dwarfed the population of Christmas Island – the place he still called home called.
A few months after his redundancy, Eric acted on that instinct and visited Christmas Island.
"I didn't have any plans, I came back for a holiday, to look at the place," he says.
"My friend had a unit here, at Kampong, and then we went back to Perth for work and I just took over his flat and looked after it.
"That was it, I just stayed."
Like his grandfather before him, Eric found his way back to Christmas Island and has not lived anywhere else since.
At the time, the mine had been re-opened by the Union of Christmas Island Workers in 1991 and a casino followed soon after.
"When I came back, there was a lot going on, it felt like a happy place," Eric recalls.
"The casino was open, there were restaurants, a lot more people, than now.
"A lot of flights from Jakarta and there was entertainment as well, there were bands – it felt like a touristy place."
With a reinvigorated Christmas Island economy, Eric was able to find work odd jobs until he landed a full-time position as an electrical fitter with the mine from 1997.
At the same time, Eric was entering a new phase in his personal life and met his wife Suzanne Lam Sook Kuin there, who had moved to the Island from Malaysia at the age of 10 and before also having to leave.
Like Eric, Suzanne was able to return to the Island when the job prospects improved, and the couple were married in 2000.
In the time since, Eric has enjoyed a successful career working for the mine, rising to the position of resident manager.
The role meant Eric was responsible for not only keeping the mine running, but looking after the community as well through funding and sponsorships of community groups.
Having recently retired at the age of 58, Eric is particularly proud of his role in facilitating the mine's support of the local school.
"The school is funded by the state, but we sponsor them for a lot of trips and a couple of years ago we gave them all new computers," he says.
Despite long-term employment with the mine, Eric experienced one more significant life change in the past two decades, when he became a father.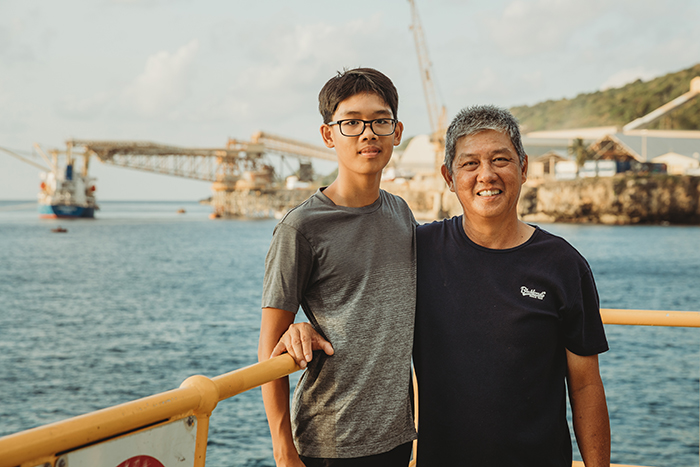 His son Damon is 14 and Eric has enjoyed the benefits that come with raising a child on Christmas Island.
"Everything is easy here, everything's close by and I have a lot of support," he says.
"The school's good and it's very safe here."
Having grown up on the Island himself, Eric has been able to share some of his own pastimes with his son.
"He fishes nearly every day now when he gets the chance," he says.
"When he first started fishing, I took him out and we were out together, most of the time.
"Not so much now, because I drop him off with his friends."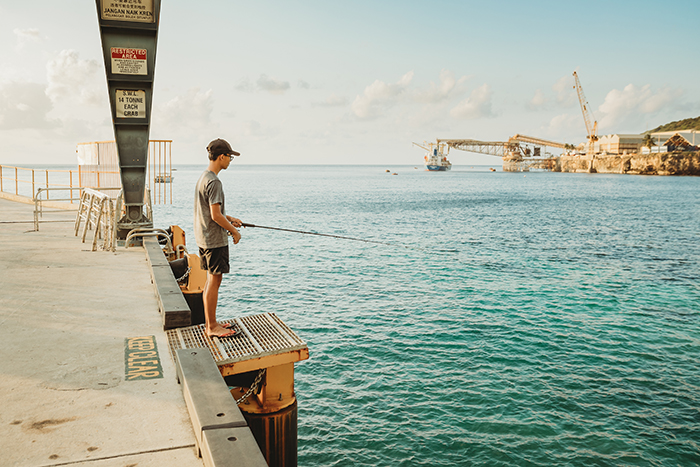 There are other similarities to when Eric was the age his son is now as well: concern about the future of mining on the Island and a lack of job opportunities.
Eric says a lot has changed since he first returned to Christmas Island.
"Now it's quiet, and it feels more isolated as well because of the flights," he says.
"The last couple of years a lot of times the flights are getting cancelled, and all the shops, the shelves are empty because of the delays of shopping, the weather and other issues."
The trajectory of Christmas Island's economy has always been cyclical through the decades, according to Eric.
"Things get busy and then it slows down, and it picks up, and it slows down," Eric observes.
"For now, it's hard to see it going back to where it was before, when it was really busy.
"The only employer on the Island is the mine and it's going very quiet the last couple of years."
Eric has resigned himself to the fact that his son will eventually have to leave the Island.
"If he decides to go to uni, that would have to be on the mainland," he says.
"A lot of the children that have gone to Perth, or to uni, they don't come back.
"There's just no job for the career they're starting.
"If they study engineering or medicine, or whatever, they don't come back."
Whether the Island will offer enough opportunities for Damon to re-enact the family tradition and return to the Island someday is unclear, but Eric is certain of one thing – he isn't going anywhere.