When Ian Francis first decided to move to Christmas Island in 2004, he only ever imagined it would be for a short stint.
Seventeen years later and the father of four is now the Island's longest standing high school principal.
"I arrived with my wife, Sharon, and two very young girls, Olivia and Michaela, with the intent to probably only stay three years. Almost two decades on and we are still here, so we must love something about it," Ian says.
When your drive to work consists of friendly waves, no traffic and a picturesque view, it is easy to understand just what Ian loves about Christmas Island.
"It takes me seven minutes to drive to work. Most people I pass wave at me. I talk to people in the street. I talk to people everywhere. I'm part of clubs. Sharon's the same, our girls are the same," Ian says.
Ian counts himself lucky that he also got the unique opportunity to be the principal of a school where both his daughters attended.
"Although, maybe the girls didn't enjoy having dad as a principal for all that time," he says, laughing.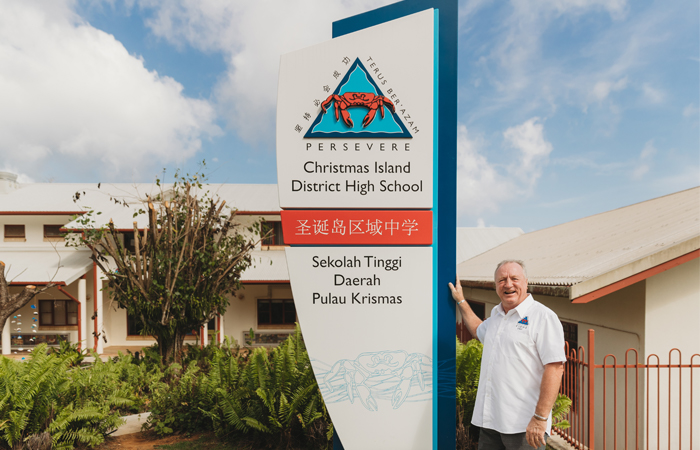 His eldest daughter has now left to study music at the WA Academy of Performing Arts, while his youngest remains on the Island and is now in Year 11, an option that hasn't always been available for local students.
"When I arrived in 2004, we made a decision to undertake Year 11 and 12 schooling," Ian says.
Prior to 2004, most children left the Island at the end of Year 10. Ian says that despite many parents doubting the small school's ability, he made a commitment to his community that the school would run a viable Year 11 and 12 program.
"I can still remember the community meeting that I went to, we had a really large turnout because they were concerned that if their kids didn't go away to school, they would be disadvantaged," he says.
"I remember saying to the deputy principal at the time, what do you reckon? Can we do this? He said, 'We can. It's going to be hard, but we'll do it', and the whole staff and community just got behind it."
It started out slow but by 2020 the numbers spoke for themselves – with 35 Year 11 and 12 students studying on the Island, from an entire school population of just 235.
Eighty per cent of those are university bound and the remainder fall into the vocational stream.
Christmas Island District High School technically comes under the WA schooling system and, according to NAPLAN figures, is an overachiever for its size.
"The teachers who come here now know that we've got really high demands. If you come to this school, we're very certain about what we do and what our aims and objectives are," Ian says.
"It's an extraordinary box of student talent on the Island. For example, we currently have two of our students in their final year of medicine."
Ian says the biggest distinction compared to other Australian schools is the community support.
"I think the biggest difference for me, and it's been brought home, listening to other principals how they've managed the whole coronavirus, we've got very strong community support here. Our parents really value their kids' education," he says.
Before moving to the Island Ian lived in WA's Kununurra for 15 years.
"Kununurra is similar to Christmas Island in that it is a mining community, but it doesn't run in the same way mining towns in the north of WA do," he says.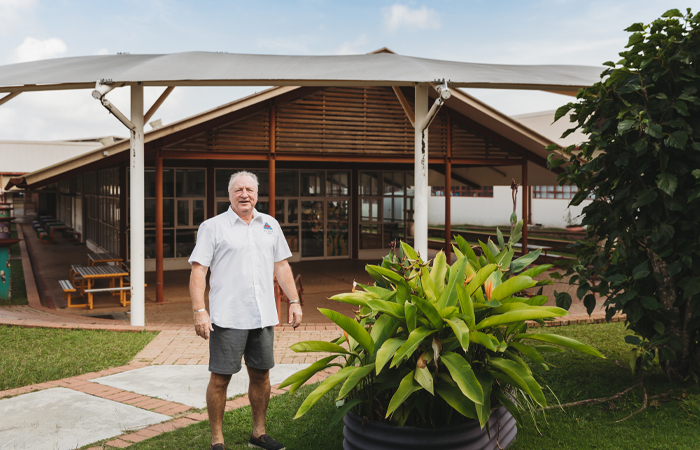 "I always felt that there were strings attached to anything that went with mining up north, and here I don't see that. I see that the mine is very much a part of the community. People who work for the mine have lived here for a long time."
Ian says the phosphate mine on the Island is still a business out to make a profit but believes it's very conscious of the Island and the people who work there.
"It dates back to when the mine shut down in the eighties and the community came together to invest and reopen it.
"I see the mine as an integral part of the community with not too many strings attached, rather than some companies I've seen, which dominate a town that they live in," Ian says.
Phosphate Resources Limited provide academic sponsorship to students each year including the 'Most Academic' award worth $15,000.
"They are also always the first ones to put their hand up to sponsor us to go on international Anzac tours or Country Week, they take great pride in being a part of that," he says.
The high school is the only regional school in WA to have a trade training centre attached to it, which offers students workplace training through the mine.
"We did that in cahoots with the mine because we could see that that's where our kids could get a vocational trade certificate prior to leaving school, and then that would be skills they'd have to work for the mine and also for stevedores and construction work on the Island," he said.
As a result of the training, many students have been successful in winning apprenticeships through Phosphate Resources Limited.
"We've got a really close association with the mine and there's no pressure on us to support them as a miner, if you like. They're very non-political with what they do with the school, they're just very supportive," Ian says.
After working at the school for 17 years, Ian says he can't imagine living anywhere else, admitting he's had it pretty good.
"We haven't had a winter in 30 years," he says.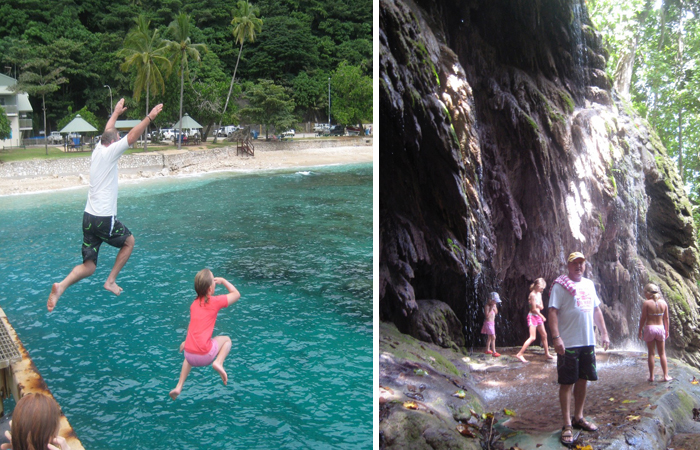 "My family has grown up here, when our girls were little it was always about exploring the Island, swimming, snorkelling and just making the most of this beautiful place. As the girls got older, I got more into golf. I'm captain of the golf club now.
"We are strongly connected to this community and can't imagine living anywhere else. Sharon, my wife, is just known as Miss Sharon on the Island. She is everything about swimming, she's taught most of the kids on this Island to swim."
As the principal contemplates his family's future, he admits Christmas Island's prospects need strong consideration and planning.
"I think if the mine goes and something else is going to take its place, then there is a fair bit of planning and preparation that needs to happen, it can't happen tomorrow," Ian says.
Like many who live on the Island, Ian believes tourism may be part of the answer to Christmas Island's sustainable economy.
"People who come here see a different side of the Island and see the whole unique, natural environment that we live in. It's second to none. There are things here that are nowhere else in the world," he says.
"If we don't have a phosphate mine to employ half the Island, by and large, then before that happens, before they go, there has to be some serious work done on tourism because it will not just fall into place, because we're not set up for it."
Ian is still unsure how long he will stay on the Island but one thing for sure is, he'll never forget his time there, and nor will the Island forget his contribution.
"I don't think there's a person who visits this Island that isn't struck by the place. For me and my family, it will always hold a special place in our hearts," Ian declares.