Mark Rochfort arrived on Christmas Island from Perth in 1984 as a 21-year-old with one bag and the intention of staying for two weeks. Now, 36 years later, he's still there.
"I came here with a little duffle bag, with a few clothes, a football and a frisbee in my bag. We still remember that, because I was practising, and I was still in training to go home and play football," he says.
Mark had flown in to visit his parents, who were living on the Island at the time, after his dad was employed by the Christmas Island phosphate mine. He had no idea what to expect from the tropical Island.
"My mum and dad actually weren't here to greet me. They were up in Singapore, I think, and they got here a few days after so I was greeted at the airport by someone I didn't know and arrived at a place I'd never been. So, it was certainly very different," he says.
But it didn't take long for Mark to meet some of the locals, and one in particular caught his eye – a young Christmas Islander named Suhaima, who quickly became his reason to stay on the Island, and later became his wife.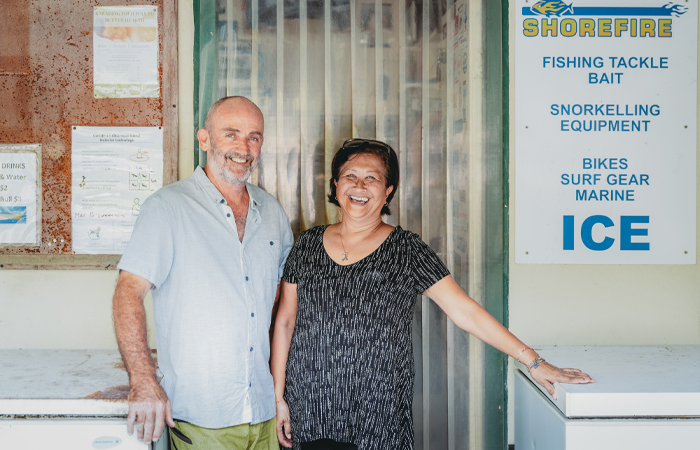 At the time, he didn't know it was a case of history repeating itself – Suhaima's dad had arrived at Christmas Island from Indonesia when he was only 19 years old, also to work at the mine. He had also met and married a local woman, Suhaima's mother, which makes her a fourth generation Christmas Islander. She says while growing up on the Island was wonderful in many ways, there was racial segregation in the early days.
"I remember when we were in school, when all these kids have to mix with us and one of them don't want to sit with me. And that really hurt me," she says.
By the time Mark arrived on the Island, the racial segregation had started to change, but he says the Island was plunged into hard times when the mine shut in 1987, which had a huge impact on the community.
"One of my first jobs was at the supermarket here. It was called the Trade Store. That was run by the mine. And the hospital was run by the mine. Everything was run by the mine except for the school and the police. But they ran the airport, they ran everything," he says.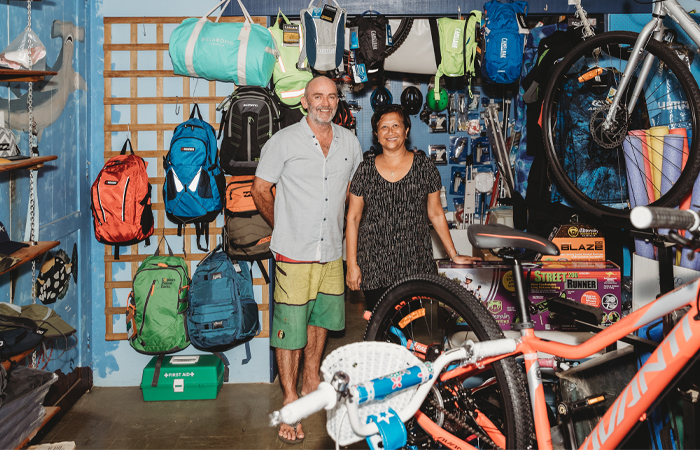 Mark says things improved dramatically on the Island after the community banded together to buy the mine and reopen it, operating under the company now known as Phosphate Resources Limited.
"These days the best thing that they do here is they employ local people," he says.
Mark decided the best way to secure his own financial future was to start a business, and he opened Shorefire Fishing charters and tackle. He says since COVID-19 hit and tourist demand for fishing charters has dried up, he's relied on local trade to keep his business going.
"Now my local trade is funded mostly by mining dollars because a majority of them are employed by the mine or something like the stevedores. With the stevedores, a lot of their income comes from mining shipping," he says.
"Except for a small period where the mine shut down in the late 80s, the constant has been the mine. And just the fact that it employs local people.
"So, these local people have an income and support my trade. I've always said that if anyone wants to run a successful business here, you have to be able to survive on local trade."
But the business isn't the only thing that keeps Mark and Suhaima on the Island. They have raised a family there, and while both their son and daughter lived in Perth while studying at university, they've both since returned to live on the Island, with their daughter now raising a child of her own.
Mark says the sense of community and the harmony between cultures on the Island is unlike anywhere else.
"We went away for three years when my kids were doing uni," he says.
"And when you come back after an extended time away, you get that feeling again, 'yes I'm home'. It won't be when you walk off the plane, but you'll be somewhere and there'll be someone that you know that just comes up and says hello, or you go somewhere that's familiar and you feel like, 'yeah, I'm home'. I'm back on the Island, and it's still the best place in the world."